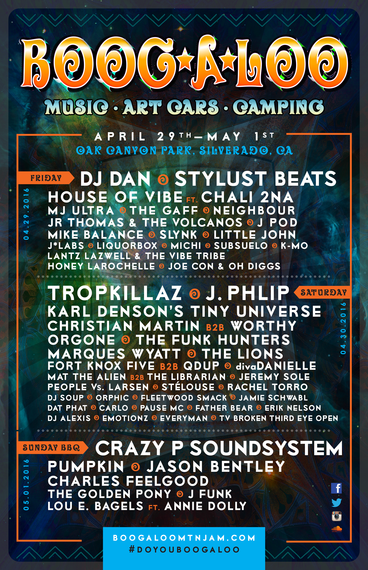 Located upon the shimmering Irvine Lake in Southern California, Boogaloo is in its 2nd year and boasts more art, more music and more BBQ. They will also be premiering the Traction Raptor speaker system at the Charlie stage, a UK-based sound company whose North American debut will be at Boogaloo. Though comprised of mostly electronic music, the lineup will also showcase a few live bands as well as some hip hop.
This May will be JTMF's 14th year of bliss and music. Not only is it set in the chakra-charging landscape of Joshua Tree, but it has found a way to remain small and intimate with a heavy emphasis on family and community. There are no mile long walks to the campgrounds and no losing your friends and family which leaves more time and energy to enjoy the festival. The entire event is almost in eye shot but is jam-packed with a wide variety of musical genres ranging from world to folk to electronic. With live artists, installations, and more, Joshua Tree Music Festival is home sweet home.
The definition of genius loci is the prevailing atmosphere, spirit or character of a place. Located off dusty beach roads in Baja, Mexico, the 2nd annual Genius Loci Fest is a small gathering that offers music, camping, art, yoga and surfing. Nestled on the sandy plateaus alongside the warm waters of the Pacific Ocean, Genius Loci is one of the few festivals that allow their patrons to wake up with the waves, surf, dance, party, and repeat. Started by a tight-knit crew of Southern California artists and musicians, this event is perfect for those who appreciate the simple pleasures of festival life.