Memes. They're everywhere. You don't need a Facebook or Instagram to see them, heck, they're not even tied to a single image anymore. These cultural treasures are the ultimate sign of the times, allowing people to creatively make fun of each other and share the absurd happenings of today's world.
Is it really fair to pit meme against meme? I can't answer that. But we at Amplify decided to do it for you anyways. Check out our list of the tops memes of 2015.
13. Snapchat Update
Snapchat added the "Lense" feature to their massively popular app in September, allowing people to superimpose all kinds of video filters onto selfies. While Snapchat doesn't allow people to archive photos, people still posted photos of their favorite filters, immortalizing the puking rainbows selfie.
Snapchat updates Lense filters every so often, so other fun filters make their way around the web. Since the update isn't brand new, it's not a big deal anymore, but Snapchat keeps users on their toes with some interesting filters.
Bottom Line: If there are multiple Halloween makeup tutorials on the subject, you can probably guess it's not gonna go away for awhile.
12. Netflix and Chill
"Netflix and Chill" used to be an innocent way to ask someone to hang out, but starting at the end of 2014, the phrase gained momentum as Twitter users started to use it as a sexual innuendo. "Nobody actually means that they want to watch TV and hang out!" they said. "Netflix and chill means sex!" they said.  The trend became mainstream after a popular vine by Brittany Furlan hit the internet.
The meme is still going strong, especially with the recent Buzzfeed video on the matter.
While there's probably some truth to the meme, it's become such a cliche that I'm predicting it's not gonna stick around for very much longer.
Bottom Line: Netflix deserves better from you, internet.
when he says netflix and chill but you walk in and he ain't even got a TV pic.twitter.com/LWdFHrfYp3

— jėns (@jens_allen) June 1, 2015
11. "My Desires Are… Unconventional."
If you haven't been living under a rock for the past few years, you probably know about 50 Shades of Grey, a.k.a. the ultimate fan fiction success-story. A year ago, the official trailer was released and these lines were heard at the end of it.
Christian: "My tastes are… singular."
Anastasia: "Enlighten me then."
The internet changed the words a little and decided to meme it. Since we all know what Christian Grey's, ahem, "singular tastes" are, the memes poke fun at it, even superimposing images over characters to fit the meme they were creating.
Currently, 50 Shades of Grey and all its forms are still the butt of many pop culture jokes, but the "Unconventional" meme seems to have died out.
Bottom Line: 50 Shades of Grey will never NOT be a relevant pop culture reference. Ever.
10. "Hello"
When Adele released the single "Hello" from her first album in FOUR YEARS in October, the internet was ready for her.
Some called out the obvious musical connection to Lionel Richie.
Others just accused Adele of trying to make them cry (and in most cases, succeeding).
https://twitter.com/katyperry/status/657469411700244480/photo/1?ref_src=twsrc%5Etfw
Since Adele's album is set for release at the end of the month, these memes will only gain more power. There are plenty of memes from Adele's songs, especially these popular memes of "Set Fire To The Rain" (here & here).
Bottom line: We cannot freaking wait for Adele's new album. That is all.
9. "DO IT"
Shia LaBeouf has had a bizarre last couple of years, to say the least. From my perspective, the guy has always been a comedian – if you saw him in the Disney Channel Series "Even Stevens," you know what I'm talking about. So when this video of him hysterically yelling at me to make my dreams come true appeared online, I died.
It's easy to think of this as another of his publicity stunts, but, according to The Guardian, the footage was part of a collaboration between LaBeouf and Central Saint Martins University of the Arts in London. "Do It" was just one of 36 clips that were filmed for the project.
Since the purpose of the video was for students to be able to remix the footage, it was the perfect material for meme-ing.
While there haven't been any new developments in this meme, it is still funny as hell. And oddly motivating.
Bottom Line: This wasn't a publicity stunt, but we're all gonna act like it is.
8. "What are those?"
In mid-June, a video surfaced in which a man behind the camera points out a cop's shoes and screams "What are those?!?" Complex identifies the originator, Instagram user youngbusco, as a "sneakerhead" who is trolling the cop for wearing generic work shoes.
The meme instantly caught fire, separating two camps: those who know what cool shoes look like, and those who don't.
https://twitter.com/hancxck/status/613590046147350528/photo/1?ref_src=twsrc%5Etfw
This is a fun meme for the young people because it's something they can do to their parents and get some laughs from it, but it alienates the older generation from the young, which I don't like as much.
Bottom Line: It was fun while it lasted, but memes are way more fun when everyone can laugh at them.
7. "Jurassic World" Raptors Scene
When Jurassic World hit theaters over the summer, lots of people were either impressed or disgusted with Bryce Dallas Howard's ability to run away from a T-Rex in heels. But the really important meme that spawned out of the movie came from this now-iconic scene.
Animal training has never looked so cool – or dangerous. So people who worked with real animals took advantage of it, which their respective "raptors."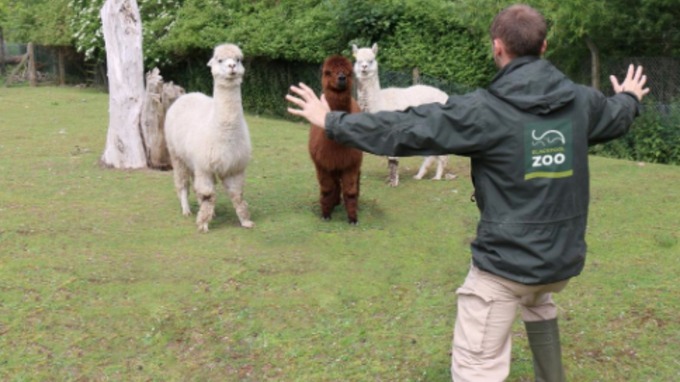 These hilarious interpretations of the scene were a big deal at the time, but the popularity has died off since the movie isn't in theaters anymore.
Bottom line: Robert Downey Jr. wins this one.
https://twitter.com/RobertDowneyJr/status/618084003720118272/photo/1
6. Straight Outta Somewhere
The N.W.A. Biopic garnered lots of attention before its opening day in August thanks to this marketing ploy gone rogue.  To promote the film, Beats By Dre launched StraightOuttaSomewhere.com, an app for people to create their own images using the "Straight Outta" logo and filling in the blank.
Some people did the thing properly and wrote what city they were from, but others took it to a whole new level by using it to make fun of famous people or just to broadcast relatable problems.
https://twitter.com/DaBEATNIK/status/629895008850542593/photo/1?ref_src=twsrc%5Etfw
#StraightOuttaCompton this meme killed it. ???? pic.twitter.com/kMcbZZKMgo

— ValerieTurntnelli (@valerie_nikole) August 7, 2015
The meme isn't around as much since the movie came out, but, this is just one of those classic memes that is always going to work.
Bottom Line: The Internet really can't take anything seriously.
5. Back to the Future Day
When "Back to the Future II" came out in 1989, the year 2015 must have seemed so far away. But, here we are, with a single pair of Nike Air Mags which Michael J. Fox gets to wear and hoverboards. Not those hoverboards.  These hoverboards.
In the movie, Marty McFly travels to October 21, 2015, and when the day arrived in real life, the image below spread like wild fire.
This isn't an old idea – there are many memes out there calling out "SCIENCE" to catch up with the radical 80s-themed dystopia that Back to the Future depicted like this one.
Many memes compared what happened in the movie with what is now happening in real life, making me LOL.
Since the date has passed, the meme is obviously less prevalent, but I wouldn't say it's gone for good. This is one thing that people will not let go of so easily.
Bottom Line: We're still waiting for real hoverboards to exist.
4. Yeezy for President 2020
At the 2015 MTV VMA Awards, Kanye West announced his presidential bid for the 2020 elections.
Was he kidding? Was he joking?  Who knows? I doubt even KK knows. But the internet loved the idea.
https://twitter.com/juicyjaysal/status/659814992980475904/photo/1?ref_src=twsrc%5Etfw
Obviously, this meme is just getting started. 2020 isn't exactly around the corner, but Kanye has a pretty strong head start against whoever takes the POTUS title next year. And Taylor Swift is interested in being his VP…
Bottom Line: This ad was approved by the friends of KanTay 2020.
3. 2016 Election
Speaking of elections, I don't think there has ever been Presidential election where the meme was so hot.
The internet skewered Jeb Bush for his campaign slogan, "Jeb Can Fix It"…
… blasted Hillary for the email scandal…
… called out Bernie Sanders for being a socialist and a fairy…
… and, of course, made fun of Donald Trump's hair.
The GOP Debate also sparked lots of memes. The internet that I know tends to be more on the liberal side, so I've seen lots of GOP Debate remarks and lots of support for Bernie Sanders.
Not to worry, there's still plenty of opportunities to poke fun at our POTUS candidates until the election actually happens, so expect more memes!
Bottom Line: Who else is running for president? 
2. "Hotline Bling"
When the music video for Drake's new single "Hotline Bling" was released in late October, people went bananas over Drizzy's dance moves. Some just changed the music to the chicken dance, but others got really creative.
The video dropped two weeks ago and has a million different remixes by now. Drake hoped that the video would get him his first #1 spot on Billboard's Hot 100, and if this doesn't do the trick, I don't know what will.
Bottom Line: Is this a marketing ploy too?  
1. The Dress
Arguably the most annoying question of 2015 is: What color is this dress?
Some say it's gold and white. Some say it's black and blue. The subject made its way up to full controversy, as any internet problem does, and it sprouted all sorts of memes.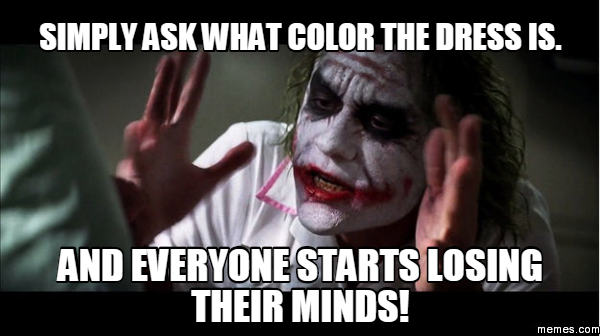 The debate has come to a standstill since it originated on Tumblr in February, but the dress is forever burned into history and into our hearts.
Bottom Line: Never letting this go. #DressGate2015
Never letting this go, tbh. #DressGate2015 pic.twitter.com/wevgcqPrq2

— BuzzFeed Community (@BuzzFeeders) February 27, 2015